Refurbished Neslab Chillers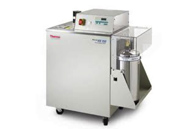 Description:
Trillium provides remanufactured Thermo Fisher (Neslab) chillers and heat exchangers. Neslab (and other) chillers and heat exchangers share a common variety of pumps that can be installed within most chillers and heat exchangers to deliver the pressure and flow required for an application. In order to properly select a chiller, a user must know their requirement for heat removal or cooling capacity, fluid flow rate, fluid pressure and unit voltage. Then the user should select a chiller based upon its cooling capacity which can be outfitted with a pump that meets their pressure and flow requirements along with the available voltage at the installation. Please view the following tables to assist in this process, but keep in mind not every pump is available on every chiller.
Feel free to contact Trillium for additional assistance in selecting the proper chiller for your application or for any service needs on your existing chillers.
Typical Recirculation Pump Types (Not Exhaustive)

| Model | Type | Flow at 30psi (GPM) | Pressure Range (psi) |
| --- | --- | --- | --- |
| PD-1 | +Displacement | .9 | 0-60 |
| TU-1 | Turbine | 3.5 | 0-60 |
| PD-2 | +Displacement | 3.8 | 0-60 |
| CP-55 | Centrifugal | 20 | 20-48 |
Neslab Chiller Performance Specs
Model
Temp Range
Cooling Capacity at 20C (Watts)
Line Voltage
Electrical Supply
Unit Cooled by
HX75
+5 to +30 C
1950
208-230
1 Ph.
Air or H2O
HX150
4500
208-230
1 Ph.
Air or H2O
HX300
10000
208-230
3 Ph.
Air or H2O
CFT25
500
115
1 Ph.
Air
CFT33
1800
115
1 Ph.
Air
CFT75
2100
208-230
1 Ph.
Air
M25
650
115
1 Ph.
Air
M33
1300
115
1 Ph.
Air
M75
2400
115
1 Ph.
Air
---
Refurbished Neslab Heat Exchangers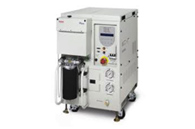 Neslab Series Performance Specs

| Model | Temp Range | Cooling Capacity ~ 6 GPM (Watts) | Channels | Line Voltage | Electrical Supply |
| --- | --- | --- | --- | --- | --- |
| System II | +10 to +30 C | 22000 | 1 | 200-230V | 1 or 3 Ph. |
| System III | +10 to +30 C | 2000-70000 | 1 | 200-230V | 1 or 3 Ph. |
| System IV | +5 to +40 C | 65000-105000 | 1-4 | 200-230V | 1 or 3 Ph. |
| Steelhead 0 | +30 to +80 C | 8000 | 4 | 208-230V | 3 Ph. |
| Steelhead 1 | +30 to +130 C | 8000 | 4 | 208-230V | 3 Ph. |