New Trillium TDS400Xi Dry Screw Pumps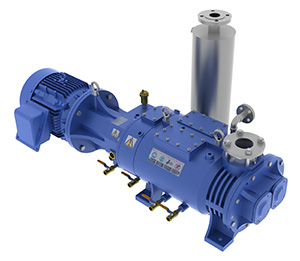 Trillium's TDS400Xi Dry Screw Pump is an excellent choice for vacuum drying, environmental test, vacuum coating and other high vacuum applications.
Description:
The TDS400Xi features superior pump down time and outstanding stand-alone ultimate pressure. Utilizing an efficient cooling system design (integral heat exchanger mechanism), the TDS400Xi offers lower discharge gas temperature than competitor pumps. They also offer superior water vapor and liquid handling as well as outstanding solid handling capability by means of special hold-up free discharge design. Using variable pitch screws, the TDS400Xi pump is 50% more energy efficient versus conventional designs and have lower vibration. The TDS400Xi pump requires minimal maintenance by utilizing solvent flushing and air/nitrogen purge as necessary during uptime and post process to minimize risk of blockage by solid and condensation, which enables longer life and time between repairs.
| | TDS-150Xi | TDS-300Xi | TDS-400Xi | TDS-800Xi |
| --- | --- | --- | --- | --- |
| Displacement (CFM) | 76 | 176 | 235 | 470 |
| Ultimate Pressure (Torr) | 5 x 10 -3 | 5 x 10 -3 | 5 x 10 -3 | 5 x 10 -3 |
| Motor Power (kW) | 3.7 | 7.5 | 11 | 15 |
| Max RPM | 3,500 | 3,500 | 3,500 | 3,500 |
| Liquid Handling (gpm) | 0.26 | 0.52 | 0.65 | 1.04 |
| Weight (Bare Shaft, lbs) | 418 | 638 | 814 | 1276 |
| Inlet Size | 1.5″ | 2″ | 2.5″ | 4″ |
| Outlet Size | 1.5″ | 1.5″ | 2″ | 2.5″ |
| Cooling (gpm) | 2 | 4 | 4 | 6 |
| Gear Oil Capacity (gal) | 0.26 | 0.52 | 0.52 | 0.65 |
| Noise (db) | 81-83 | 81-83 | 81-83 | 81-83 |