Refurbished CTI OnBoard 400 Cryo Pump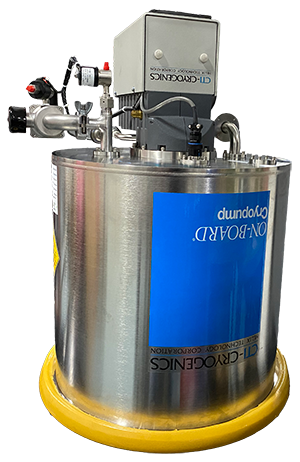 The CTI OnBoard 400 series of cryo pumps comprise the majority of intelligent 16" cryo pumps used in semiconductor, vacuum coating, and R&D applications. Using the same cryopumping design as CryoPlex and CryoTorr, the OnBoard 400 includes built in functionality for:
Interfacing to a process tool directly or through a network controller
Faster regeneration and precise 1st and 2nd stage temperature using the integrated cold head heater
Remote regeneration by a process tool or via keypad
Simultaneous regeneration with multiple other cryopumps in the same system
Local access to cryo system health via the keypad or PC via RS232
Onboard 400 cryopumps are offered in a range of configurations including ASA/ANSI, ISO, and Conflat flanges along with a full UHV version, which incorporates additional metal seals in lieu of traditional orings.
Trillium provides world-class support for your OnBoard 400 including technical support, expert repair service, as well as a full range of spare parts and repair kits for every repair approach.
OnBoard 400 cryos offer the following performance. Included is the performance of the smaller and larger sizes available for comparison.
Pumping Speed (l/s)
Model
H2O
Air
H2
Ar
Cooldown (Minutes)
OnBoard 10
9000
3000
5000
2500
100
OnBoard 400
16000
6000
5000
5000
150
OnBoard 500
16000
6000
12000
5000
150
Trillium stocks OnBoard 400s for immediate exchange or outright purchase. The most popular models include the following, ask for these by PN when requesting a quote:
| CTI PN | Flange | Array Type | Motor Type |
| --- | --- | --- | --- |
| 8116109G00X | ISO | Enhanced | 2 Phase |
| 8116240G00X | CVC | Standard | 2 Phase |