Refurbished Leybold WS/WSU251 Series Booster Pump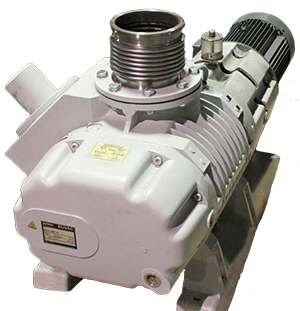 The Leybold WS251 and WSU251 are Roots type blowers and are part of Leybold's RUVAC series of blowers, all of which are equipped with labyrinth oil sealing technologies making them incredibly robust across a wide range of applications. The "S" designation indicates the booster is equipped with a canned motor, which is a good choice for applications where harmful gases may be present. The WS251 is a non-bypass design and requires a pressure switch to engage the booster, whereas as the WSU251 is equipped with a bypass valve ("U" designates this) for improved pumping from atmosphere. Both models can be installed in either a vertical or horizontal orientation without internal modification.
| Model | 208V 60Hz PN | 460V 60Hz PN |
| --- | --- | --- |
| WS 251 (Non Bypass) | 117 22 LV | 117 22 HV |
| WSU 251 (Bypass) | 117 23 LV | 117 23 HV |
Note: Other motor voltages available upon request.
All WS/WSU 251 booster pumps share the same data below. Download the full manual below.
| | |
| --- | --- |
| Pumping Speed | 149 cfm |
| Ultimate Pressure without Gas Ballast | 10 mTorr |
| Power | 2 HP |
| Dimensions (Inches) | 7″H x 29″L x 12″W |
| Weight | WS=199lbs, WSU=210lbs. |
| Oil Capacity | .58 Qts. |