Refurbished Stokes 412MBX Pump Package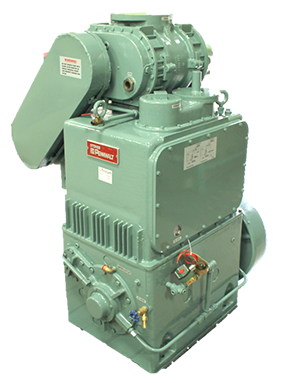 The Stokes 412MBX package consists of a Stokes 412H-11 or 412J-14 rotary piston pump with a Stokes 607-401 booster pump. This pump package is a durable solution when rapid pumping of large sized chambers is required. Trillium provides a full range of support options for your Stokes 412MBX including service and replacement parts.
| Model | 208V 60Hz PN | 460V 60Hz PN |
| --- | --- | --- |
| 412MBX | 900-412-MBX LV | 900-412-MBX HV |
Note: Other motor voltages available upon request.
All 412MBX Series pumps share the same data below.
| | |
| --- | --- |
| Pumping Speed | 612 cfm |
| Ultimate Pressure without Gas Ballast | 10 mTorr |
| Power | 10 HP / 20 HP |
| Dimensions (Inches) | 52″H x 42″L x 56″W |
| Weight | 2650 lbs. |
| Oil Capacity | 12 Gallons / 9.25 Pts. |