New Univac 600 Bypass Booster Pump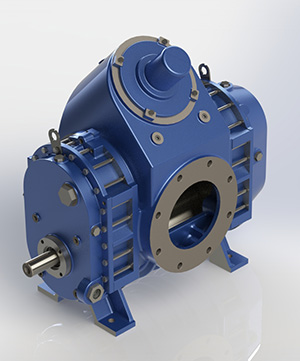 The Univac 600 rotary lobe bypass booster pump is well regarded as the workhorse of many industries, including Cryogenics, Atmospheric Testing, Optical Coating, as well as many others. The Univac 600 is ideal for larger chambers and systems due to its pumping capacity. This booster pump can be configured as either belt drive or direct drive, as well horizontal (Univac 600BP-2) or vertical flow (Univac 600BP-1).
More recent versions of the Univac 600 bypass blower include the integration of mechanical seals, high speed balanced lobes and water cooled bearing housings to enable running the booster at higher speeds without increasing its footprint. MHR/MVR types which have a single mechanical seal on the input shaft and can be run at 3600 RPM and can achieve 2600 CFM. For the same speeds plus the ability to isolate process gases in the swept volume, the 5HR and 5VR variants additionally feature internal mechanical seals and water cooled bearing housing to remove the additional heat generated.
| Model | PN |
| --- | --- |
| 600BP-1 (Horizontal) | |
| 600BP-2 (Vertical) | |
| 600BP-MHR (Horizontal) | |
| 600BP-MVR (Vertical) | |
| 600BP-5HR (Horizontal) | |
| 600BP-5VR (Vertical) | |
Note: Other motor voltages available upon request.
All 600-BP Series pumps share the same data below. Download the full manual below.
| | |
| --- | --- |
| Pumping Speed | 1300 cfm |
| Ultimate Pressure without Gas Ballast | 10 mTorr |
| Power | Multiple |
| Dimensions (Inches) | 26″H x 26″L x 14″W |
| Weight | 757lbs |
| Oil Capacity | 4 Gallons |