Refurbished Stokes 149H Piston Pumps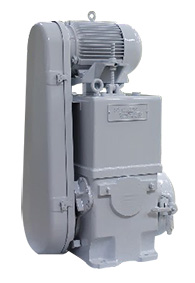 Description:
The Stokes 149H is an Oil Flooded Rotary Piston Pump that is used in a wide range of industries to enable reduced pressure environments. There are two versions of the Stokes 149H series. The first generation was the 149H-10, which was then following by the 149H-11. Except for the drive pulley, counter weight, and shaft, all other components are interchangeable between the 149H-10 and 149H-11. Although some parts for the 149H-10 are no longer available, the 149H-11 is still very well supported and will be for many years to come.
DID YOU KNOW? Trillium not only refurbishes but also services and repairs the Stokes 149H Piston Pump. Visit our Piston Pump Repair Page for more information.
| Vintage | 208V 60Hz P/N | 460V 60Hz P/N |
| --- | --- | --- |
| 149H-10 | 900-149-010LV | 900-149-010HV |
| 149H-11 | 900-149-011LV | 900-149-011HV |
Note: Other motor voltages available upon request.
All 149H Series pumps share the same data below. Download the full manual below.
| | |
| --- | --- |
| Pumping Speed | 80 CFM |
| Ultimate Pressure without Gas Ballast | 25 mTorr |
| Power | 3 HP |
| Dimensions (inches) | 39″H x 24″L x 20″W |
| Weight | 565 lbs. |
| Oil Capacity | 2.5 Gallons |