Leybold Trivac D90A and D90AC Dual Stage Rotary Vane Pump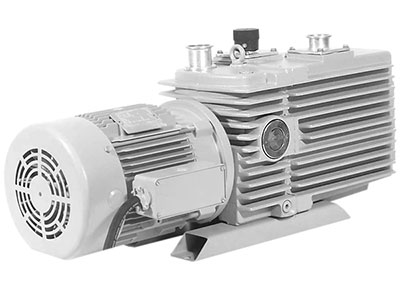 The Leybold D90A and D90AC series pumps are the first generation of rotary vane pumps from Leybold. These pumps are still widely used and remain supportable. Both types are driven by 3 phase electric motors. The D90 size pump is mechanically identical to a D60, with simply a faster spinning motor.
For non-corrosive applications, the D90A is a robust pump, offering excellent performance. For corrosive duty installations, the D90AC features more chemically resistant seals and O-rings to prevent premature leaks and failure.
The Leybold D90A/D90AC have the following specifications:
| | |
| --- | --- |
| Pumping Speed | 56 CFM |
| Ultimate Pressure without Gas Ballast | 1 mTorr |
| Power | 3.3 kW |
| Inlet/Outlet Size | NW40 |
| Weight | 230 lbs |
| Oil Capacity | 4.1 liters |