Refurbished Lam Chillers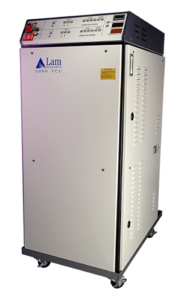 Description:
The LAM TCU 20/80 chiller is a dual channel temperature control unit, used predominantly on the LAM 4000 Etchers Series. The 20/80 was designed to provide independent temperature control to the process chamber's upper and lower electrodes all from a single chiller using a mix of DI water and Glycol.
Trillium provides both service and refurbished 20/80s in support of customers globally. With access to OEM parts direct from LAM, Trillum can provide expert level support on your existing 20/80 fleet.
Lam 20/80 Performance Specs

| TCU 20/80 Channel | Temp Range | Flow Rate at 20C/60psi | Cooling at -15C (watts) | Cooling at -20C | Reservoir Capacity |
| --- | --- | --- | --- | --- | --- |
| Upper | +15C to +80 C | 4GPM | 750 | 1000 | 5 Gallons |
| Lower | -20C to +80C | 4GPM | N/A | 1000 | 5 Gallons |