Refurbished Guardian GS4 Scrubbers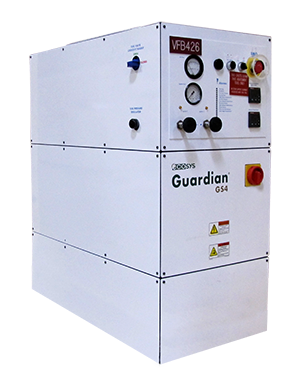 Description:
The Guardian GS4 is a combustion type abatement system originally produced by Ecosys, who were subsequently acquired (in chronological order) by ATMI, Metron and Applied Materials. Currently the GS4 is manufactured in Taiwan and is popular still on dirty applications such as Chemical Vapor Deposition (CVD) where Silane is used.
The GS4 can be configured with 1-4 inlets and is primarily fueled by Methane, although to abate higher flow of gas, Hydrogen fuel is an option. The GS4 was originally available as either a ceiling or floor mounted device, with the latter more prevalent and modern.
Trillium provides end users with refurbished Guardian GS4s, spare parts and on-site service to improve system reliability and uptime.
Specifications for GS4s are below. GS8 specifications included for reference.
| System | Voltage | Dimensions (WDH) | Max Flow Rates |
| --- | --- | --- | --- |
| GS4 Methane | 120V 1Ph | 19″ x 26″ x 42″ | 110 SLM |
| GS4 Hydrogen | 120V 1Ph | 19″ x 26″ x 42″ | 220 SLM |
| GS8 Methane | 120V 1Ph | 21″ x 76″ x 58″ | 180 SLM |
| GS8 Hydrogen | 120V 1Ph | 21″ x 76″ x 58″ | 600 SLM |