Trillium TCU 40/80 Chiller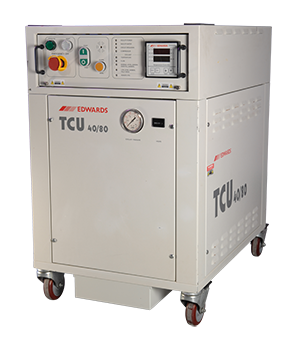 The TCU 40/80 Chiller, originally manufactured by BOC Edwards, was designed as an alternative to the LAM 20/80 for use on the 4000 and 9000 etch platforms. It features more robust construction, longer mean time between failure and fluorinated cooling fluids, which eliminates the need for on board deionization systems. Built as a single channel system, the TCU 40/80 can be stacked with another unit to create a dual channel system. Units can be stacked directly on top of each other or through the use of a special stacking frame.
In 2009 Trillium acquired the chiller and heat exchanger product lines from Edwards. Trillium provides End Users worldwide support, repair service and spare parts, as well as New and Refurbished TCU 40/80s.
The following specifications are provided for both the TCU 40/80 and TCU 40/80 Plus for comparison purposes.
| Specification | TCU 40/80 | TCU 40/80 Plus |
| --- | --- | --- |
| Temp Range | -40C to 80C | -40C to 80C |
| Flow Rate at 20ºC / 60 PSI | 3 GPM | 3 GPM |
| Cooling Capacity at -20C | 700 Watts | 700 Watts |
| Cooling Capacity at > 20C | 2000 Watts | 2400 Watts |
| Part Number | W95100000 | W95100008 |