Refurbished Leybold E250 Rotary Piston Pump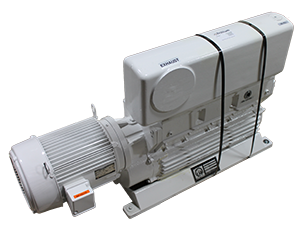 The Leybold E250 is an Oil Flooded Rotary Piston Pump that is well regarded as the workhorse of many industries, including Vacuum Heat Treating, Sintering, Vacuum Arc and Induction Melting. Since the Leybold E250 is an air-cooled pump, it is well suited for areas where water is not available and the process requires a robust pumping mechanism. Recently, Leybold discontinued this product, but Trillium continues to support it with service and replacement parts machined in our state-of-the-art CNC machining center.
| Model | 208V 60Hz PN | 460V 60Hz PN |
| --- | --- | --- |
| E250 | 105 36 LV | 895 08HV |
Note: Other motor voltages available upon request.
Specifications
| | |
| --- | --- |
| Pumping Speed | 170 cfm |
| Ultimate Pressure without Gas Ballast | 25 mTorr |
| Power | 7.5 HP |
| Dimensions (Inches) | 27″H x 24″L x 13″W |
| Weight | 827 lbs. |
| Oil Capacity | 8.9 Qts. |