Refurbished Stokes 148H Piston Pumps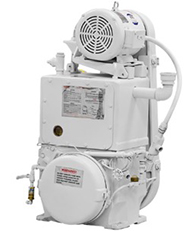 Description:
The Stokes 148H is an Oil Flooded Rotary Piston Pump that is used in a wide range of industries to enable reduced pressure environments. There are two versions of the Stokes 148, including the first generation 148H-9, which had the inlet and the exhaust on the same side of the pump – making it difficult to add a blower option. Stokes eliminated this issue with the 148H-10, which has the inlet and exhaust on opposite sides. Both the 148H-9 and 148H-10 share the same internal and external parts with the exception of the block. Unfortunately, Edwards (who now owns the Stokes product line) has discontinued the 148H series. However, Trillium produces a drop in replacement called the Univac 100, which features 100% interchangeable parts with the 148H-10.
DID YOU KNOW? Trillium not only refurbishes but also services and repairs the Stokes 148H Piston Pump.  Visit our Piston Pump Repair Pagefor more information.
| Vintage | 208V 60Hz P/N | 460V 60Hz P/N |
| --- | --- | --- |
| 148H-9 | 900-148-009LV | 900-148-009HV |
| 148H-10 | 900-148-010LV | 900-148-010HV |
Note: Other motor voltages available upon request.
All 148H Series pumps share the same data below. Download the full manual below.
| | |
| --- | --- |
| Pumping Speed | 50 CFM |
| Ultimate Pressure without Gas Ballast | 25 mTorr |
| Power | 2 HP |
| Dimensions (inches) | 32″H x 24″L x 20″W |
| Weight | 345 lbs. |
| Oil Capacity | 1.25 Gallons |