Cryopump Arrays and Radiation Shields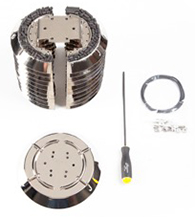 Description:
As a trap type vacuum pump, cryopumps utilize two methods to isolate gas molecules, preventing them from returning to your vacuum chamber. Since cryopumps operate at temperatures of around 10 Kelvin at their coldest points, they are able to condense or freeze certain molecules on the cold surfaces of the 15 Kelvin and 80 Kelvin arrays. Some molecules, however, freeze at much lower temperatures and therefore must be isolated using a different method. In a cryopump this is achieved with charcoal – gases make their way into the tiny crevices of the charcoal and are essentially trapped as they are unable to escape.
Scheduled replacement of the condensing array, as well as radiation shield, ensures maximum operating performance and pumping capacity of your cryopump. In all applications, the 15K array charcoal has a finite capacity for gas. Once capacity is reached, the user will experience deteriorating pumping speed. As well, 80K arrays and radiation shields often become damaged and ineffective on corrosive processes – such as Ion Implantation.
Trillium offers replacement condensing arrays and shields for both our CryoPlex series as well for CTI CryoTorr® and OnBoard® cryopumps. Our replacement array kits include a gasket set, fasteners, tool, gloves, o-ring and instructions – everything you need to do the job.
Click on part number to purchase online
Applicable Products
15 K Array
80 K Array
Radiation Shield
Trillium
CTI
Trillium PN
CTI PN
Trillium PN
CTI PN
Trillium PN
CTI PN
Cryoplex® 8
CryoTorr® 8 / 8 OnBoard®
15KCA-8
8080002K010
99-00018-008
8080002K001
99-00022-008
Cryo-Plex® 8LP
Cryo-Torr® 8F
15KCA-8F
8080007K010
99-00018-008
8080007K001
80KRS-8F
8F OnBoard®
15KCA-OB8F
8080011K005
99-00018-008
8080011K006
80KRS-8F
8F OnBoard® Enhanced
99-00044-000
8080011K011
99-00018-08E
80KRS-8F
8080011K007
Cryo-Plex® 10
Cryo-Torr® 10/10 OnBoard®
15KCA-10
8080007K010
99-00018-010
8080003K001
80KRS-10
8080003K004
Cryo-Plex® 16
Cryo-Torr® 400/400 OnBoard®
See Below*
See Below*
99-00018-016
8080004K001
99-00022-016
8080004K004
Cryo-Torr® 100
15KCA-100
N/A
99-00018-100
8080002K001
99-00022-100
808002K004
* Cryo-Plex® 16, CryoTorr® 400 and 400 OnBoard® Pumps have a 2 piece 15 K Array consisting of:
| Description | Trillium PN | CTI PN |
| --- | --- | --- |
| 15K Condensing Array | 15KCA-400 | 8080004K003 |
| 15K Absorbing Array | 15KCAA-400 | 8080004K002 |