Refurbished Stokes 306 Rotary Lobe Booster Pump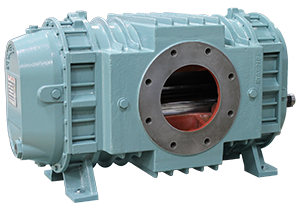 The Stokes 306 rotary lobe booster pump is a Roots type design offered in both vertical and horizontal flow configurations. In the past it was offered in a belt drive configuration, but that has been obsoleted by the newer style direct drive units that offer a faster pumping speed due to increased RPM. Although the 306 is no longer a production model it is still very well supported by Trillium. This booster is best suited for small chambers and vacuum systems.
| Model | Stokes PN |
| --- | --- |
| 306-401 (Vertical) | 900-306-401 |
| 306-402 (Horizontal) | 900-306-402 |
Note: Other motor voltages available upon request.
All 306 booster pumps share the same data below. Download the full manual below.
| | |
| --- | --- |
| Pumping Speed | 245 cfm |
| Ultimate Pressure without Gas Ballast | 10 mTorr |
| Power | 2 HP |
| Dimensions (Inches) | 10″H x 33″L x 12″W |
| Weight | 200lbs |
| Oil Capacity | 401=2.75 Pts., 402=1.2 Pts. |