Refurbished Neslab CFT150 Chiller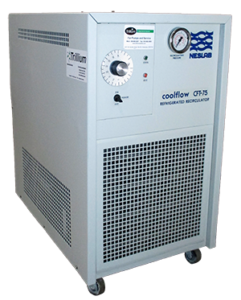 The Neslab CFT150 is a single phase air cooled chiller commonly used in many industries. Unavailable in water cooled configurations and offered with limited options, the CFT Series succeeded the HX series of chillers from Thermo-Neslab as a more budget-conscious offering.
In 2009 Trillium acquired the chiller and heat exchanger service business from Air Products, who had specialized in Neslab chiller repair. Trillium provides End Users worldwide support, repair service and spare parts, as well as Refurbished Neslab CFT150s.
The following specifications are provided for CFT75, CFT150 and CFT300 for comparison purposes.
| Specification | CFT75 | CFT150 | CFT300 |
| --- | --- | --- | --- |
| Temp Range | 5C to 35C | 5C to 35C | 5C to 35C |
| Flow Rate at 20ºC / 30 PSI (PD1 Pump) | .9 GPM | N/A | N/A |
| Flow Rate at 20ºC / 30 PSI (PD2 Pump) | 3.8 GPM | 3.8 GPM | 3.8 GPM |
| Cooling Capacity at 20C | 2100 Watts | 4500 Watts | 10650 Watts |
| Available Voltage | 200-230V 1 Ph | 200-230V 1 Ph | 200-230V 3 Ph |
| Cooling Options | Air Only | Air Only | Air Only |