Refurbished Leybold Trivac D25B and D25BCS Dual Stage Rotary Vane Pump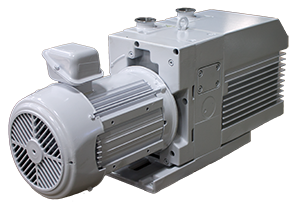 The Leybold D25B and D25BCS series pumps are the much-improved second generation of rotary vane pumps from Leybold. Unlike the Trivac A Series which was constructed with the shaft seal riding directly on the shaft, the B series features a shaft sleeve design that reduces repair costs.
For non-corrosive applications, the D25B is a robust pump offering excellent performance. For corrosive duty installations, the D25BCS features more chemically resistant machined part and seals, as well as a full range of accessories to enhance operation including:
Automatic Recirculation Systems: Capture exhaust oil mist and recirculates in to the pump.
Chemical Filtration System: Provide onboard filtration of oil for particles, acids and other harmful materials.
Inert Gas System: Provides and control a Nitrogen purge to the pumps swept volume.
Electronic Indicator System: Supplies the end user with various indications and warnings.
Common versions of the D25B/BCS are as follows:
| Model | PN | Voltage |
| --- | --- | --- |
| D25B | 11275 | 230V, 1 Ph 50/60 Hz |
| D25BCS | 11378 | Universal 3Ph |
The Leybold D25B/BCS has the following specifications.
| | |
| --- | --- |
| Pumping Speed | 30.8 m3/h |
| Ultimate Pressure without Gas Ballast | 1 mTorr |
| Power | .75 kW |
| Inlet/Outlet Size | NW25 |
| Weight | 35.8 kg |
| Oil Capacity | 1.4 liters |