Refurbished Edwards EH-2600 Booster Pump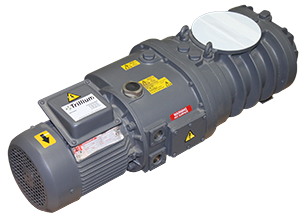 The Edwards EH2600 Booster Pump features twin Roots lobes driven by a hydrokinetic drive mechanism that allows the pump to slip at high pressures to avoid stalling and provide pumping assistance from nearly atmospheric pressure. Unlike, the smaller EH250 and EH500, the EH2600 requires water cooling to the gear oil reservoir in order to remove heat. Like all blowers, it requires a suitable backing pump such as an Edwards or E2M275 or Stokes 412.
Note: Other motor voltages available upon request.
All EH2600 Series booster pumps share the same data below. Download the full manual below.
| Model | 208V 60Hz PN | 460V 60Hz PN |
| --- | --- | --- |
| EH2600 | A30776982LV | A30776982HV |
| | |
| --- | --- |
| Pumping Speed | 1830 cfm |
| Ultimate Pressure without Gas Ballast | 10 mTorr |
| Power | 15 HP |
| Dimensions (Inches) | 15″H x 29″L x 19″W |
| Weight | 746 lbs |
| Oil Capacity | 3.9 Qts. |