Refurbished M&W Dual Channel Chiller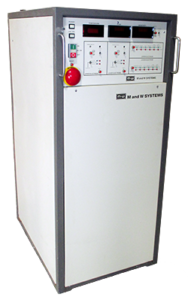 The M&W Dual Channel Chiller model RPC2/28W-RNB is 3 phase dual channel chiller designed primarily for use on LAM research 4000 series etchers. It is used to provide independent temperature control to the process chamber's upper and lower electrodes all from a single chiller using a mix of DI water and Glycol.
In 2009 Trillium acquired the chiller and heat exchanger service business from Air Products, who had specialized in M&W chiller repair. Trillium provides End Users worldwide support, repair service and spare parts, as well as Refurbished M&W RPC2/28W chillers.
| Channel | Temp Range | Flow Rate at 20C/60psi | Cooling at -20C | Cooling at 18C | Reservoir Capacity |
| --- | --- | --- | --- | --- | --- |
| Upper | -20 to +80 C | 4 GPM | 700 Watts | 2800 Watts | 4 Gal |
| Lower | -20C to +80 C | 4 GPM | 700 Watts | 2800 Watts | 4 Gal |