Refurbished Edwards iH600 Dry Pumps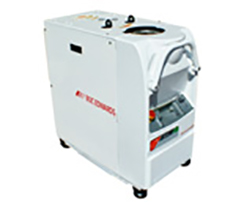 Description:
The Edwards iH600 Dry Pump was introduced as the follow-on to the iQDP80/QMB500 dry pumping system. This 3rd generation of dry pumps from Edwards (also hook and claw design) is ideally suited for applications that benefit from higher operating temperatures. While running near 120 degree Celsius, process gases which would ordinarily condense inside a cooler pump will pass through freely, preventing the pump from seizing due to particulate accumulation. Like the iQDP pump, the iH600 can be easily interfaced to process tools and offers a robust N2 purging system.
The iH600 has been manufactured since the late 1990s and with a pumping speed of 353 CFM, its main competitors were the Ebara A70W and the Alcatel ADS602P. The iH600 and was released in 5 vintages as follows. We recommend specifying the vintage you require when requesting pricing.
| Vintage | 208V 60Hz P/N | 380/415V 50Hz P/N |
| --- | --- | --- |
| iH600 | A533-82-945 | A533-82-946 |
| iH600 Enhanced | A533-86-945 | A533-86-946 |
| iH600 HEAC | A533-41-945 | A533-41-946 |
| iH600 New Look | A533-51-945 | A533-51-946 |
| iH600 Mark V | A590-20-945 | A590-20-946 |
Note: 480V 60Hz and 230V 50Hz Variants are Also Available
The iH600 has the following specifications. Download the full manual below.
| Pumping Speed | Ultimate Pressure | Power | Dimensions (mm) | Weight | Oil Capacity |
| --- | --- | --- | --- | --- | --- |
| 353 CFM | 1 mTorr | 6.1 kW | 909 x 839 x 390 | 415 kg | 1.43 liters |