Refurbished Stokes 1722 Pump Package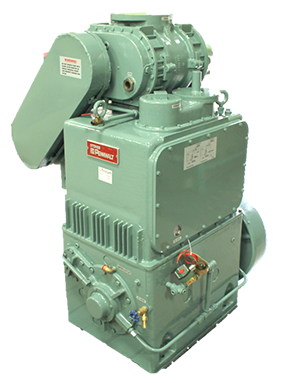 The Stokes 1722 is a pump package that is comprised of the Stokes 412H-11 or 412J-14 mechanical pump with the Stokes 615-1 booster pump. In this configuration, the entire package is mounted on standard sized skid, with the blower mounted on a frame, driven by motor and pulley positioned below it. This package is well regarded as the workhorse of many industries, including Vacuum Heat Treating, Sintering, Vacuum Arc and Induction Melting, as well as many others. This pump package is well suited for large vacuum chambers and vacuum systems.
| Model | 208V 60Hz PN | 460V 60Hz PN |
| --- | --- | --- |
| 1722 | 900170062LV | 900170062HV |
Note: Other motor voltages available upon request.
All 1722 pump packages share the same data below.
| | |
| --- | --- |
| Pumping Speed | 1300 cfm |
| Ultimate Pressure without Gas Ballast | 10 mTorr |
| Power | 10 HP / 10 HP |
| Dimensions (Inches) | 51″H x 57″L x 42″W |
| Weight | 3500 lbs. |
| Oil Capacity | 12 Gallons / 2 Qts. |