Refurbished CTI 9600 Cryo Compressor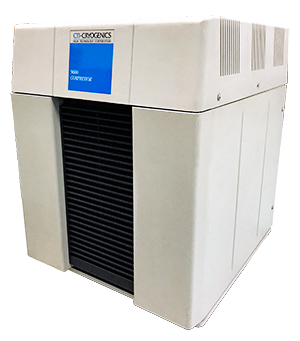 The CTI 9600 Helium Compressor is capable of driving multiple cryo pumps or cold heads. Refer to the table below for more information. Available in only 3 Phase voltages and a water-cooled configuration, the 9600 is not designed for customers with limited facilities. Customers who have limited process cooling water available or who require an air cooled compressor capable of running multiple cryo pumps should consider Trillium's M600 compressor. If your 9600 requires service, Trillium maintains world class repair capability for this any other model CTI compressors.
9600 Compatibility Matrix
| Pump Type | Max. # of Pumps |
| --- | --- |
| CryoTorr or On Board 8/8F | 3 |
| CryoTorr or On Board 10 | 1 |
| CryoTorr or On Board 400 | 1 |
As always it is best to request CTI products by their PNs. The 9600 PNs are list below.
| CTI PN | Voltage | Phase | Cooling |
| --- | --- | --- | --- |
| 8135900G001 | 200-230V | 3 | Water |
| 8135901G001 | 380-460V | 3 | Water |