Solid State Cooling Thermorack 1201 Chiller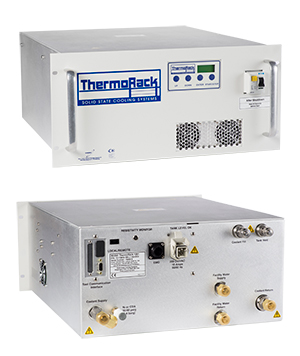 Designed specifically for the toughest Semiconductor Etch applications, the ThermoRack 1201 provides precise temperature control with ~80% less power than conventional refrigeration-based chillers. With only two moving parts and no compressor, this thermoelectric-based chiller is known for high reliability and long life. The ThermoRack 1201 reduces environmental impacts by consuming less power, using 60% less facility water, reducing air conditioning load by 85% and not requiring any Freon or other chemical refrigerants.
The ThermoRack 1201 is offered in multiple configurations based upon the specific process tool and communications interface. Currently, we offer these for most Lam Research, Tokyo Electron and Applied Materials Etch platforms as listed below.
| Specification | Thermorack 1201 A1 | Thermorack 1201 A3 | Thermorack 1201 L1 | Thermorack 1201 L1-DC1 | Thermorack 1201 L1-DC2 | Thermorack 1201 T1 | Thermorack 1201 T2 |
| --- | --- | --- | --- | --- | --- | --- | --- |
| Part Number | 10-130803-1-A1 | 10-130803-1-A3 | 10-130803-1-L1 | 10-130803-1-L1-N2-DC1-RF | 10-130803-1-L1-DC2 | 10-130803-1-T1-N2 | 10-130803-1-T2-N2 |
| Tool Type | AMAT P5000 and Centura | AMAT P5000 | LAM Rainbow and Alliance | LAM Rainbow and Alliance | LAM Rainbow and Alliance | TEL Unity II | TEL Unity M |
| Interface | AMAT CHX | AMAT Analog | LAM Single Channel Analog | LAM Dual Channel Analog (Master) | LAM Dual Channel Analog (Slave) | TEL Unity II | TEL Unity M |
| Temp Range | 5C to 80C (without N2 Option) | 5C to 80C (without N2 Option) | 5C to 80C (without N2 Option) | 5C to 80C (without N2 Option) | -10C to 80C (with N2 Option) | -10C to 80C (with N2 Option) | -10C to 80C (with N2 Option) |
| Cooling Capacity @ 20°C with 20°C facility water | Up to 1.2kW | Up to 1.2kW | Up to 1.2kW | Up to 1.2kW | Up to 1.2kW | Up to 1.2kW | Up to 1.2kW |
| Heating Capacity @ 20°C with 20°C facility water | Up to 2 kW | Up to 2 kW | Up to 2 kW | Up to 2 kW | Up to 2 kW | Up to 2 kW | Up to 2 kW |
| Flow Rate at 30 PSI with HFE | 14 lpm (3.7 GPM) | 14 lpm (3.7 GPM) | 14 lpm (3.7 GPM) | 14 lpm (3.7 GPM) | 14 lpm (3.7 GPM) | 14 lpm (3.7 GPM) | 14 lpm (3.7 GPM) |
| Dimensions & Weight | 19″ x 24″ x 8.7″ / 70 lbs | 19″ x 24″ x 8.7″ / 70 lbs | 19″ x 24″ x 8.7″ / 70 lbs | 19″ x 24″ x 8.7″ / 70 lbs | 19″ x 24″ x 8.7″ / 70 lbs | 19″ x 24″ x 8.7″ / 70 lbs | 19″ x 24″ x 8.7″ / 70 lbs |