Refurbished Edwards iQDP80/QMB500 Dry Pumps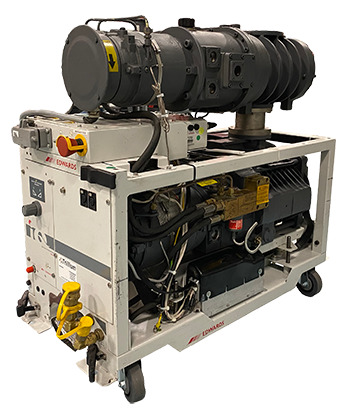 Description:
The Edwards iQDP80/QMB500 Dry Pump uses a nearly identical pumping mechanism as the QDP80/QMB500, plus it features an integrated electronics and control suite enabling the user to easily monitor and report a wide range of pump health outputs and detect issues automatically. When integrated with a Tool Interface Module, an iQDP pumping system communicates easily with any parent equipment. In addition, the pump can be networked for remote monitoring using a Network Interface Module and proprietary software/hardware from Edwards. Like the QDP series, the iQDP80/QMB500 pump can be diluted with up to 50SLM of nitrogen purge for the harshest applications.
The addition of the QMB500 Booster Pump mounted on top of the IQDP80 significantly increases pumping capacity. For a more compact pumping package, the IQDP80 and QMB500 can be directly mounted, or for ease of moving the IQDP80 and QMB500 independently, the QMB can mounted in a booster fame, under which the IQDP will sit.
| Pumping Speed | Ultimate Pressure | Motor Power | Inlet | Exhaust |
| --- | --- | --- | --- | --- |
| 272 CFM | 5 mTorr | 6.4 kW | ISO100 | NW40 |