Refurbished Alcatel Pascal 2063 Dual Stage Rotary Vane Pump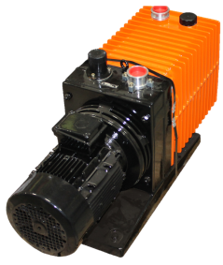 Alcatel Pascal 2063 series pumps have a pumping speed of 42 CFM (60 m3/h) and are used in the most demanding applications in industry, analytics and research & development. Applications such as optical coatings, vacuum drying, space simulation, and RGA are some common uses. The Alcatel Pascal 2063 series rotary vane pumps have replaceable bushings in the plates, keeping the cost of remanufacturing low. All pumps contain a forced lubrication system, which ensures highest reliability in processes with high gas throughput.
Four versions of oil-lubricated Alcatel Pascal pumps are available:
SD version for all vacuum applications with non-corrosive gases in the medium vacuum range
I version for the requirements of instrumental analytics and high gas throughput
C1 version for applications with aggressive or corrosive gases
C2 version for harsh duty applications with the most aggressive pumping environment
Vintage
90-254V 50/60 Hz 1 Ph PN
170-300V 50/60Hz 3 Ph (LV) PN
342-520V 50/60Hz 3 Ph (HV) PN
SD
263SDMLAM (Low Voltage)
263SDMHAM (High Voltage)
263SDTLAM
263SDTHAM
I
263AEMLAM (Low Voltage)
263AEMHAM (High Voltage)
263AETLAM
263AETHAM
C1
263C1MLAM (Low Voltage)
263C1MHAM (High Voltage)
263C1TLAM
263C1THAM
C2
263C2MLAM (Low Voltage)
263C2MHAM (High Voltage)
263C2TLAM
263C2THAM
The Alcatel Pascal 2063 Series has the following specifications. Download the full manual below.
| | |
| --- | --- |
| Pumping Speed | 42 cfm |
| Ultimate Pressure without Gas Ballast | 1 mTorr |
| Power | 3 HP (2.2kW) |
| Inlet/Outlet Size (Inches) | NW40 |
| Weight | 205 lbs. |
| Oil Capacity | 1.75 Gal. (7L) |