Refurbished Leybold Sogevac SV65 Single Stage Rotary Vane Pump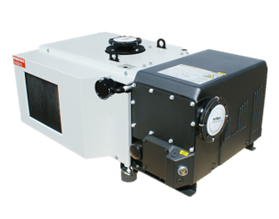 The Leybold SV65 series pumps are tried and true single compression stage units used in a wide range of applications including house vacuum, cryogenic cylinder evacuation and many more.
The SV65 features on board oil filtration, injection and exhaust demisting which all serve to keep the pump well lubricated with clean oil, and without the typical issue of oil mist blowing out of the exhaust. The SV65 provides excellent pumping performance from atmospheric pressure to 1 Torr.
Trillium offers Refurbished SV65s and SV65Bs, as well as world-class repair service, oil and spare parts.
The Leybold SV65 has the following specifications.
| | |
| --- | --- |
| Pumping Speed | 37.7 cfm |
| Ultimate Pressure without Gas Ballast | 400 mTorr |
| Power | 1.8 kW |
| Inlet/Outlet Size | 1.25″ NPT |
| Weight | 114.9 lbs. |
| Oil Capacity | 2.1 Qts. |