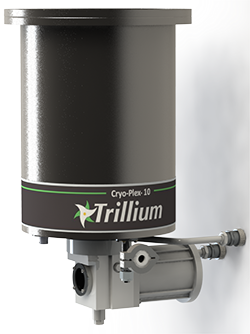 New Trillium CryoPlex CP10 Cryopump
Scalable High Capacity Cryopump to Support Large Chamber Applications
Trillium's Cryo-Plex 10 inlet flange configurations conform to industry standard ANSI, ISO and Conflat® and full UHV specifications, allowing seamless integration into existing process infrastructures and easy exchange with other OEM cryopumps. Choose Cryo-Plex 10 so mission critical processes can consistently perform at peak efficiency with minimum downtime.
Key Features & Benefits
Industry Standard Design: Ensuring quick and simple installation, exchange and upgrade so mission critical processes perform at peak efficiency with minimum downtime. Inlet flange configurations conform to ANSI, ISO and Conflat® specifications as well as full UHV. Cryo-Plex 10 is easily interchangeable with other OEM cryopumps.
Flexible Configuration: Cryo-Plex 10 can be configured and accessorized to support a wide range of demanding research and production applications. It can be used in any mounting position for industry-standard or custom designs. Silicon diode or hydrogen-vapor-bulb (HVB) sensors measure temperatures at second stage to help control the regeneration process (dual diodes are also available).
Quality Manufacturing: Trillium US Inc. is committed to providing quality products that reliably meet the demanding requirements of our customers' applications. We take a personal approach to ensure complete customer satisfaction. Our Austin, Texas based manufacturing facility has been ISO 9001 certified for more than fifteen years.
Pumping Speed (l/s)
H2O
Air
H2
Ar
Cooldown (Minutes)
9000
3000
5000
2500
90