Cryo-Torr Cryo Pumps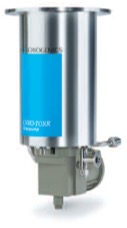 Description:
CTI Cryo Pumps are the industry standard for a wide range of cryopumping applications. The Cryo-Torr series was the original cryo pump produced by Helix, later acquired by CTI and now Brooks Automation. Cryo-Torr models provide robust cryo pumping capability, but offer limited performance and health indication.
Pumping Speed (l/s)
Model
H2O
Air
H2
Ar
Cooldown (Minutes)
CT4F
1100
370
370
310
75
CT8
4000
1500
2500
1200
90
CT8F
4000
1500
2500
1200
90
CT10
9000
3000
5000
2500
100
CT250F
6500
2200
3200
1800
120
CT400
16000
6000
5000
5000
150
CT500
16000
6000
12000
5000
150
Enhanced CTI Cryo Pumps
CTI manufactures several variants of standard cryo pumps as enhanced versions. These enhancements are accomplished through modifictions to the 15K and/or the 80K arrays. The resulting benefit of an enhanced cryo pump is that it will typically be "tuned up" for a specific application. As an example, Enhanced 8F cryo pumps have increased capacity for Argon, which is useful in sputtering, while Enhanced 250F cryo pumps have increased Hydrogen pumping speed, which is beneficial in Ion Implantation. Contact Trillium for more details on purchasing an enhanced cryo pump or upgrading your current pump fleet.
Selecting a Cryo Pump
When choosing a cryo pump, select a model that produces the appropriate pumping speed for the gases used in your process. Secondly, ensure your system can physically accomodate the size of pump you need. As a rule of thumb the model indicates the diameter of the cryo pump vessel (e.g. CT8 = 8 inches, CT250F = 250mm). Thirdly, ensure the cryo compressor you have or are considering is sufficiently sized to handle the number and size of cryo pumps.