Refurbished Ebara UERR Series Dry Pumps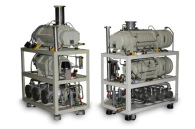 Description:
The Ebara UERR Series Dry Pumps are tried and true performers for a wide range of pumping applications. Most models are offered with U –Tube variants that include interstage coolers that allow process gases to condense inside the U tube instead of the dry pump, which can in many cases prevent or prolong a pump seizure due to process. As with most Ebara pumps, the UERR series are not multivoltage capable, instead two versions exist including a 200-220V configuration and a 380-460V variant. Separate wall or pump mounted controllers are available for customers wishing to obtain pump health information and/or interface the pump with a process tool.
UERR Series Performance Specs

| Model | Pumping Speed | Ultimate Pressure | Motor Power |
| --- | --- | --- | --- |
| 40×20 | 42 CFM | 30 mTorr | 2.2 kW |
| 65×40 | 99 CFM | 30 mTorr | 3.7 kW |
| 50×20 | 127 CFM | 1 mTorr | 3.7 kW |
| 80×25 | 297 CFM | 1 mTorr | 3.7 kW |
| 150×40 | 640 CFM | 1 mTorr | 7.4 kW |
---
Refurbished Ebara "A" Series Dry Pumps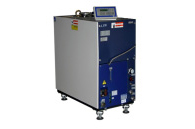 Description:
The Ebara "A" Series dry pumps although mechanically similar to their UERR predecessor, offer signficant advantages. A series pumps offer an on board electronics suite that provides pump health information to a hand held LCD controller typically mounted magnetically on the pump. A series pumps also feature enclosures for noise abatement and an optional silencer. Only the A150W comes in significant variants, with a T suffix featuring U-Tubes similar to the UERR series and a M type that has an integrated exhaust trap between the pump and the exhaust connection. Like the UERR, A series pumps are not multivoltage capable, requiring customers to specify the voltage required for operation. Interfaces for process tools are available for many process tools and come in standard, mini and micro form factors.
"A" Series Performance Specs

| Model | Pumping Speed | Ultimate Pressure | Motor Power |
| --- | --- | --- | --- |
| A07V | 29 CFM | 1 mTorr | 1.5 kW |
| A10S | 42 CFM | 30 mTorr | 2.2 kW |
| A25S | 99 CFM | 30 mTorr | 3.7 kW |
| A30W | 125 CFM | 1 mTorr | 3.7 kW |
| A70W | 300 CFM | 1 mTorr | 3.7 kW |
| A150W | 640 CFM | 1 mTorr | 7.4 kW |