Trillium 40/80 TCU Chillers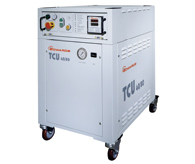 Description:
Trillium acquired the TCU 40/80 Product Line from Edwards Vacuum in early 2009. Trillium currently provides service, parts, and new or refurbished TCU 40/80s in support of End User worldwide. Please contact Trillium for any support issues on your TCU 40/80 chillers.
The TCU 40/80 is manufactured in both Standard and Plus variants and is primarily used with Semiconductor Etch chambers to control wafer chuck, cathode, anode, and chamber wall temperatures. The 40/80 was also designed to replace other dual channel chillers like the LAM 2080, and as such one 40/80 can be stacked directly on top of another unit or they can be configured vertically using a stacking frame. TCU 40/80s are designed specifically to use flourinated fluids only. Feel free to contact Trillium for any specific questions regarding your application.
Trillium 40/80 TCU Performance Specs

| Model | Temp. Range | Flow Rate at 20C/60psi | Cooling Capacity -40C (Watts) | Cooling Capacity -20C to 80C | Power Consumption |
| --- | --- | --- | --- | --- | --- |
| TCU 40/80 | -40C to +80C | 3 GPM | 750 | 2000 | 4.5 kW |
| TCU 40/80 Plus | -40C to +80C | 3 GPM | 750 | 2400 | 4.5 kW |