Refurbished Alcatel Series 2 Dry Pumps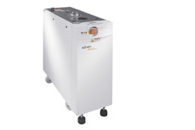 Description:
Both the Series 2 and Series 1 pump designs are nearly identical multiroots pumping technology, however series 2 Dry Pumps are only manufactured as a fit for use product. They are offered in LM (Light to Medium Duty), P (Process Duty), and H (Harsh Duty) varieties, but only three main pumping speeds are available as depicted below. Two of the main benefits of the Series 2 range are the optional heated exhaust systems and the flexible facilities configurations (top or rear). These pumps remain the narrowest (390 mm wide) main line semiconductor dry pump on the market.
Series 2 Series Performance Specs

| Model | Pumping Speed | Included Booster | Ultimate Pressure | Motor Power |
| --- | --- | --- | --- | --- |
| ADP122 | 66 CFM | N/A | 6.7 mTorr | 1.5 kW |
| ADS602 | 329 CFM | RSV602B | 3.7 mTorr | 3 kW |
| ADS1202 | 676 CFM | RSV1002B | 3.7 mTorr | 5.2 kW |
---
Refurbished Alcatel Series 1 Dry Pumps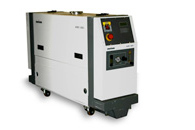 Description:
The Alcatel Series 1 Dry Pumps are a good choice for end users who require a robust dry pumping solution but are concerned about floor space. Although these pump have similar mass when compared to competitor dry pumps, the Series 1 Alcatel pumps were designed to optimize factory space by being the narrowest dry pump on the market. Their performance is enhanced by the use of ceramic bearings for long life between rebuilds. These pumps were manufactured in two form factors; standard and modular. Standard versions are fit for purpose packages that includes acoustic enclosures for further noise dampening. Modular versions provide the user additional flexibility for performing maintenance, mounting controllers and integrating boosters.
Series 1 Performance Specs

| Model | Pumping Speed | Included Booster | Ultimate Pressure | Motor Power |
| --- | --- | --- | --- | --- |
| ADP31 | 18 CFM | N/A | 6.7 mTorr | 1.5 kW |
| ADP81 | 57 CFM | N/A | 7 mTorr | 1.5 kW |
| ADS151 | 97 CFM | RSV151B | 4 mTorr | 3 kW |
| ADS301 | 182 CFM | RSV301B | 3 mTorr | 3 kW |
| ADS501 | 300 CFM | RSV601B | 3 mTorr | 3 kW |
| ADS801 | 442 CFM | RSV1001B | 2 mTorr | 5.2 kW |